Block Concrete Forms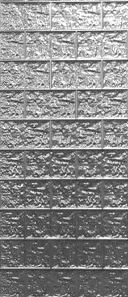 Looks like block…Feels like block…

WTF's natural "split block-look" forms leave a lasting impression. Residential or commercial applications can easily be painted or two-toned for a decorative look. WTF split block concrete forms are compatible to pouring block on one side and smooth on the other.
Split block forms give you a deep block design providing a realistic finished look.
Width 36" - 1"
Heights up to 120"
Available in any hole pattern:
Bracing
"Boxed" design makes it impossible for concrete to enter and accumulate inside brace.
Ends are welded on sides and tops to strengthen the form and ensure concrete cannot enter brace.
Siderail
Heavy duty extruded aluminum extends life of panel.
Exposed corners are mitered to reduce the accumulation of concrete.
Bushings
Heat-treated and plated bushings are held in place by heavy duty ¼ inch solid steel plated rivets.
Crowned bushing allows for easy release of wedges.
Bushings increase strength of siderail, not weaken it like swedged bushings.
Rivets are countersunk into siderail to reduce accumulation of concrete and make cleaning easier.
Welding
Continuous weld around concrete form, including over top of bracing.
Certified Quality Control Program.